5 Must Attend entertainment events in NewYork 2023
Created On:

Sep 06, 2023
Category:

Entertainment Events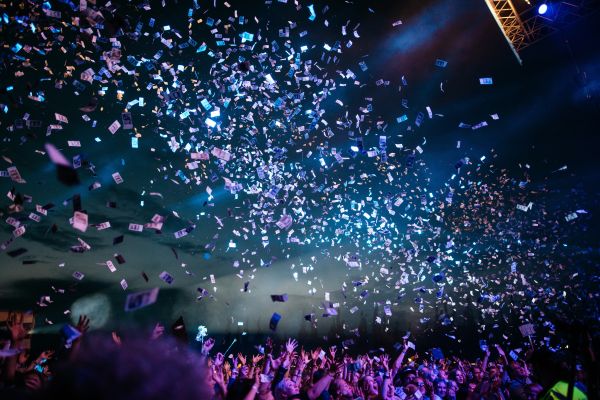 The City is the cultural hub of the United States. Additionally, it is well known for its exciting scene. The City has many entertainment choices, including Broadway performances and music festivals. These events will have an everlasting impact on people. So, it has everything from world-class theatre productions to electrifying music festivals and thought-provoking film screenings. So, plunge yourself into the vibrant and dynamic entertainment events. As we further explore the five must-attend entertainment events in NewYork 2023.
Broadway Week
Broadway Week is a highly anticipated event. Also,  that takes place twice a year. It offers theatre lovers the opportunity to experience the magic of Broadway at discounted prices. Visitors can catch some of the hottest shows on Broadway during this event. Likewise, it includes musicals, plays, and revivals. From iconic productions like "Hamilton" and "The Lion King" to new and exciting exhibits, it is a must for any theatre enthusiast.
Broadway is synonymous with world-class theatre. Plus, New York City is the epicentre of this theatrical extravaganza. Also, the dazzling lights of Times Square beckon visitors to immerse themselves in the captivating performances that grace the stages of Broadway theatres. Thus, from the historic Shubert Theatre to the majestic Gershwin Theatre, the City boasts many venues that showcase the best live entertainment.
It offers a unique occasion to observe the talent and creativity of actors, singers, dancers, and production teams who bring these shows to life. Further, the entertainment event allows theatre enthusiasts to enjoy discounted tickets, making it more accessible for locals and tourists to experience the magic of Broadway. Additionally, it has something for everyone, whether anyone is a fan of classic musicals, thought-provoking dramas, or innovative new productions. Please get to know more about New York entertainment events from our website.
Governors Ball Music Festival
It is for music lovers. It is held annually on Randall's Island. Additionally, it has multiple stages, food vendors, and interactive art installations. Besides, it attracts both determined and evolving artists globally. The festival's lineup features a mix of chart-topping acts, indie darlings, and up-and-coming musicians, ensuring there's something for every musical taste. The entertainment event New York offers one of its kind experinces to all attendees. 
In addition to the stellar musical performances, the festival also offers a range of culinary delights, with food vendors serving various cuisines to satisfy every palate. Also,  the attendees can explore interactive art installations and engage in multiple activities. Lastly, several entertainment event companies give the best updates, like frontline ticketing.
Tribeca Film Festival
This festival celebrates independent cinema. It also attracts filmmakers, industry professionals, and movie enthusiasts worldwide. Moreover, Robert De Niro and Jane Rosenthal have established it. Also, this impressive event showcases many films, including biographies, feature films, and brief films. Including those screenings, the event hosts panel dialogue and Q&A meetings with filmmakers.
It was named after the Tribeca neighbourhood in Lower Manhattan. Also,  the festival's varied lineup reflects the spirit of New York City, with movies that explore a wide range of subjects, customs, and perspectives.
Attending this film festival provides a unique opportunity to discover hidden gems, engage in thought-provoking discussions, and interact with filmmakers pushing the boundaries of storytelling. Lastly, from our website, please learn more about occasions like the Trilogy tour events.
New York Comedy Festival
The New York Comedy Festival is where to be if someone is in the mood for laughter. With shows at various venues across the City, visitors have plenty of prospects to catch their preferred humorists in action.
The City has a rich comedy scene, and this Comedy Festival showcases the best of it. From legendary comedy clubs like the Comedy Cellar to larger venues like Madison Square Garden, the entertainment event offers diverse performances that cater to all comedic tastes.
The festival attracts established comedians and rising stars, providing a platform to showcase their unique styles and connect with audiences. So, whether visitors prefer observational humour, political satire, or offbeat comedy, this comedy festival promises to deliver side-splitting laughter and unforgettable moments.
Macy's Thanksgiving Day Parade
It has been a favourite ritual since 1924. The Parade is a vision that attracts lots of spectators each year. Besides, this iconic Parade celebrates creativity and entertainment, featuring giant balloons, marching bands, celebrity performances, and elaborate floats. So, whether visitors watch it in person or from the comfort of their homes, the Macy's Thanksgiving Day Parade is a must-see entertainment event 2023 that captures the City's spirit. The Parade's larger-than-life balloons, including beloved characters like Snoopy and Spider-Man, float above the streets of Manhattan, captivating audiences of all ages.
In addition to the iconic balloons, the Parade features performances by renowned artists, Broadway casts, and marching bands nationwide. Attending the  Parade is an exclusive experience. Besides, the energy and excitement that fill the streets of New York City on Thanksgiving morning are palpable as families and friends gather to witness this entertainment event 2023.
Wrapping Up!
New York City is a retreat for entertainment fanatics. Also, the City offers various events and experiences. So, whether someone is a theatre lover, music enthusiast, film buff, comedy fan, or simply looking to occupy themselves in the City's luminous culture, these five must-attend events in New York City in 2023 will leave visitors with unforgettable memories. So save the date and prepare to experience the best entertainment event in New York City. Lastly, keep visiting Frontline ticketing for more details and event updates.
FAQs
Q1. What is the Governors Ball Music Festival?
It is for music lovers and is held annually on Randall's Island.
Q2. Who established the Tribeca Film Festival?
Robert De Niro and Jane Rosenthal have established it.
Q3. When will Macy's Thanksgiving Day Parade take place?
It will take place in November 2023.
Q4. What is the commencement date of the New York Comedy Festival?
It will start from November 3 to 12, 2023.
Q5. Which is the best platform to buy the event tickets?
Frontline ticketing has the best ticket-buying solution for its attendees.