Upcoming Trilogy Tour Events in 2023
Created On:

Sep 06, 2023
Category:

Entertainment Events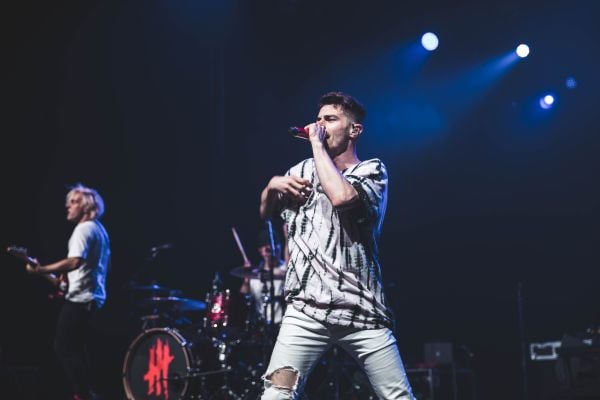 Dexta Daps intends to return to Jamaica after his Trilogy Tour Events stops in the United States. The tour will feature Dexta Daps' contagious dancehall energy and stop in Kingston, Ocho Rios, and Negril. Most importantly. Details regarding these events and their tickets will be readily available on the frontline ticketing website. So, keep exploring us to learn more about the upcoming entertainment events and their details.
The Trilogy Tour
The Ricky Martin, Pitbull, and Enrique Iglesias-led Trilogy Tour events are a must-see for several compelling reasons. Also, it primarily brings together three highly regarded Latin music superstars who are individually renowned for their exhilarating performances and number-one records. Further, Latin music lovers must attend this event because it is a once-in-a-lifetime chance to see these legendary performers on one platform.
The Trilogy Tour events also guarantee a dynamic and enthralling performance, with each headliner performing entire sets of their finest songs. As a result, spectators may anticipate hearing several timeless songs, like "Livin' la Vida Loca" by Ricky Martin, "Timber" by Pitbull, and "Hero" by Enrique Iglesias. Unquestionably, the event will be a musical explosion chock-full of priceless moments and first-rate entertainment. Lastly, contact the best entertainment event companies, like frontline ticketing, for the best ticket-buying experience.
THE TRILOGY TOUR, KINGSTON JAMAICA
The Trilogy Tour is a show put on the Dexta Daps Tour, and it stars the Jamaican musician Dexta Daps. On Friday, December 1, 2023, at 8 p.m., Kingston, Jamaica, will host a tour. Moreover, the Ranny Williams Entertainment Centre in Kingston will host the occasion. Further, during this tour, a significant musical event, Dexta Daps, will perform live for his Jamaican fans and music lovers.
Visit our website for updates and ticket information if you want to participate or discover more about The Trilogy Tour events. New tour dates and locations are now available at frontline ticketing. Or watch the performer's official social media platforms and news sources for the most recent information.
THE TRILOGY TOUR OCHO RIOS JAMAICA
Ocho Rios Jamaica's "Trilogy Tour" is a musical tour that includes the dancehall performer Dexta Daps from Jamaica. The event makes several stops in Jamaica and the United States. It is renowned for its exhilarating performances and contagious dancehall ambience. On December 2, 2023, the trip is supposed to go by Ocho Rios, Jamaica, among additional destinations. Also, dancehall music enthusiasts are looking forward to this tour since Dexta Daps has become known for his electrifying performances.
Ocho Rios, Jamaica, offers visitors several other thrilling tours and excursions besides the Trilogy Tour. Further, some well-liked choices include the Blue Hole, a natural swimming hole, river rafting excursions, and the spectacular cascades at Dunns River Falls.
THE TRILOGY TOUR NEGRIL JAMAICA
The Trilogy Tour in Jamaica's Negril, The highly anticipated performance by Jamaican dancehall musician Dexta Daps, has tickets available. On December 3, 2023, the tour will take place at Wavz Beach in Negril, Jamaica. Further, these tickets grant entry to the daytime celebration and performance, which begins at 4:00 p.m. Fans can attend the concert whether it's raining or shining because it's a rain or sunny event.
It will be viable to visit Dexta Daps' official website or social media accounts to get the latest news about "The Trilogy Tour Negril Jamaica," as well as to check with local event organisers and ticketing websites for any declarations or updates about this tour in Negril, Jamaica. Frontline ticketing will be the best solution for all the viewers looking to find a perfect place for smooth ticketing buying.
Why are their events a must-have?
The tour will also stop in various cities throughout North America, making it available to many fans. Also, music lovers from all over the continent will have the chance to experience the enchantment of the Trilogy Tour firsthand thanks to this broad tour itinerary. Further, this is a chance for followers of great musicians to participate in music history and make enduring memories. It will be a rare and unforgettable opportunity for fans to see three Latin music icons on one stage, listen to their best hits, and participate in a historic tour. Please learn more about the New York entertainment events from our website.
Bottom Line
The trilogy tour events bring an unstoppable musical journey for all the music. Moreover, the three legendary singers will showcase their talent and skill set to help viewers create a cherishable time with their loved ones. The information on the occasion is available on the blog. Other information and ticket-buying procedures will now be a piece of cake for all viewers by getting assistance from frontline ticketing. We have solutions for all of your ticket-buying queries and event information. So, please keep visiting our website without hesitation and grab all the updated event details.
FAQs
Q1. Who will be performing in the trilogy tour?
Three legends, Ricky Martin, Pitbull, and Enrique, will perform at the events.
Q2. What is the schedule of the trilogy tour in Kingston, Jamaica?
On Friday, December 1, 2023, at 8 p.m., Kingston, Jamaica, will host a tour.
Q3. When will the tour visit the Ocho Rios Jamaica?
On December 2, 2023, the trip is supposed to go by Ocho Rios.
Q4. The trilogy tour Negril Jamaica destination details?
On December 3, 2023, the tour will take place at Wavz Beach in Negril, Jamaica.
Q5. Where to find the exclusive events tickets?
From frontline ticketing, viewers can find their desired event tickets.